Pelly
He Is My Companion
Pelly is my book companion.  Whenever I go out to a book event, Pelly comes with me.  He came to join me six years ago.  It all started with an idea.  I like talking to children about my books, but also about real pelicans.  My purpose, along with writing books children and adults want to read, is to introduce them to a part of the beautiful world we live in.  I live in the central valley of California, so a lot of times, children haven't even seen a pelican or, if they have, don't know what they are.  They may think of them as a "big duck" like the little girl in our book, Kelly and the Scarf.  So, I like to include some information about real California Brown Pelicans in my books and book presentations.  I thought that if I had a puppet that was close to the size of a real brown pelican, with its long bill, pouch, big wing span, and webbed feet, it would be a perfect accompaniment to reading my books.  Of course, it had to be green, as the pelicans in our books are various colors– each one as beautiful as the others.
Made By Don Kruska, Omnipresent Puppet Theater
I started to look on-line for people who made puppets.  Then, I remembered the Omnipresent Puppet Theater.  I contacted their owner, Don Kruska, and asked him about making a nearly life-size pelican.  He said he could!  I told him that I wanted one that looked like a pelican, but was green, like the first pelican in our counting book.  He made Pelly, and Pelly has been my event companion ever since.  And, what a great companion he is!
Green Pelicans Attract People
When I'm out at a store, or in an event with multiple booths all vying for visitors' attention, or presenting to a group, a large, green pelican is hard to ignore.  Children and adults come by to see him.  As a result, I've had great reactions and fun conversations about him, about real pelicans, and about my books.  Said one senior citizen at a book store, " Are you still going to be here for a while?  I've got to go find my wife and bring her back to see Pelly.  I've never seen a green pelican before!"   I always like to greet people through Pelly.  Even those who seem rather out of sorts, have a hard time not smiling at Pelly.  Pelly also is great for advertising.  I can pose him in a variety of ways and use him in posts.  Thank goodness for Photoshop!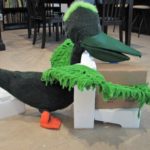 Setting up like this
To get Pelly carrying books into Mrs. Fig's Bookworm.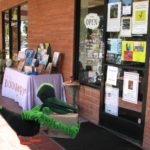 Or from this —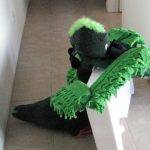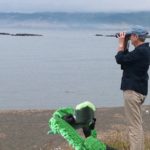 To this.
Pelly is a great companion, a little bulky to carry, but important to have with me, nevertheless.