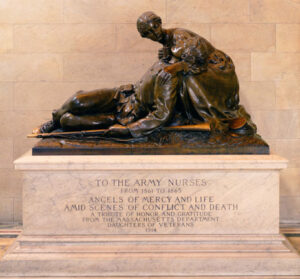 War!
As I learn about my ancestors,  I realize I place them into time blocks in terms of wars that took place.  Yes, I have a rough timeline of natural disasters, medical advancements, of inventions and their developments, and great architectural and transportation changes.  But the category easiest to use when I am trying to sort out who lived when, is the category of wars that took place. 
That seems like a sad commentary on humans.  Many might argue that great inventions and advancements are the result of the needs of war.  The price paid for these, however,  is so incredibly high.
Margaret Edwards — A Civil War Nurse
Margaret Edwards, (1805-1893), my third great grandmother on my dad's side, was affected by war.  Not only was she alive during the Civil War, but she served in it as a nurse.  She was married twice.  Her first husband, Henry R. Pace died in 1845.  They had one son, Charles S. Pace,  who was my second great grandfather.  She married Daniel Sinclair in 1848.  Daniel Sinclair joined the 143rd Pennsylvania Infantry in Sept. 1862.  He was wounded in the Battle of Gettysburg.  A listing of people from the 143rd shows that Sinclair, Daniel A., Private, who joined Sept.6, 1862 was wounded at Gettysburg, Pa. on July 1, 1863.  I think that she followed him into war by volunteering to serve as a nurse.  She was 57 years old at that time.  According to an article in history.com, "Thousands of women in the North and South joined volunteer brigades and signed up to serve as nurses."   
Here are two newspaper clips telling about her service.  If you double click on the articles, you will be able to read them better.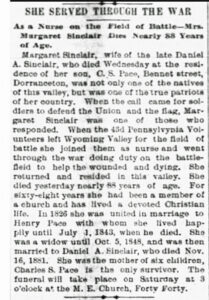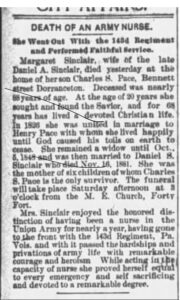 I wanted to include Margaret Edwards in this blog because of her service during the Civil War.  She was first notable to me for that.  As I read more about her, I was struck by the strength  of this woman.  She lived to be almost 88 years old.  Her life was filled with extreme sorrows.  She outlived two husbands.   As a nurse in the Civil War, she encountered the horrors wars place upon the people.  And, of her six children, only one survived beyond her.  That was Charles S. Pace, my second great-grandfather. 
Ancestry Mystery
I have one more ancestor in the Pace line that I want to write about, my grandmother Catherine C. Kester.  Her life story is the biggest mystery I have in pursuit of knowledge about the people in my past.  She is the one I will write about next. 
#61 — Margaret Edwards — a Civil War Nurse.