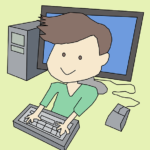 My New Computer Came Today!
My New Computer Came Today!
I signed up for a Blog Post Challenge to write 26 posts in 13 weeks.  I was preparing a school presentation. I was planning to start working on income taxes.   Then my computer crashed!  I took it to the Geek Squad.  The technician was kind.  She looked it over and figured out what was wrong. Then she looked in the records and discovered I had purchased it eight years ago! (I think eight years in computer life is about 500!)   The cost of repair just wouldn't be worth it.  I knew this day was coming. But, now?  That was two weeks ago.  My New Computer Came Today!
I Had To Put It Together!
I took the computer, and its accompanying parts, from the box. Then I took a picture of it, disassembled, and sent it to my kids, who live and work in Ventura and L.A.  I told them, jokingly, that I would be very glad if someone wanted to come up right away and put it together for me.  No one jumped into his or her car and headed up.  One son, ever encouraging, said "Mom, you've got this, and don't forget you can always use Google and You Tube for help."  I remember reminding him often, in his youth, "Look it up in the dictionary."   Another volunteered his 7-year-old nephew, my grandson,  (who could probably have put it together easily), and then advised me to connect the rectangular thing on the right to the rectangular thing on the left and let him know if it works. I responded, determined, "I can read, therefore I can do things."  I may have spoken too soon.
My New Computer Had Directions!
I remember the old computers and their big, thick books of directions.  My husband, who didn't have that Just-Do-It-And-Check-Directions-If-Stuck personality that I had, would read them before proceeding!  These days, you get a very small sheet of directions and anything else is on line.  Of course, if you can't get it started with the quick start directions, and you have no other connection to the internet, you are in trouble!  I was lucky, I had an I-pad.  With the thin sheet of directions, and the I-pad, I got down on the floor under the desk to put it together.  (I was able to get back up again!)
But there was a problem!
It started up and got to a set-up screen.  The screen was asking for a Microsoft password.  For some unfathomable reason, I thought the problem was with my wireless provider.  I called the wireless provider.  After talking to 5 different people in five different departments, I gave up and set up an appointment for a technician to come out in a few days.  I went to get dinner.    
Then, I decided to look at it again.  This time I saw that what I really needed was a password.  I didn't know the password, so I tried to get a new one.  They said they would send me a code, but I never got it in my e-mail.  Time passed.  The work day was over. My ever-encouraging son called.  "Did you check the junk folder," he asked.  Oh.  I canceled the technician's appointment. 
My New Computer Came Today!
I have a new computer.  It works!  Now I'll have to think up another reason why writing 26 blog posts in 13 weeks, and getting my income taxes done, will be difficult.  Hm-m-m. Let me think.
#34 — My New Computer Came Today!