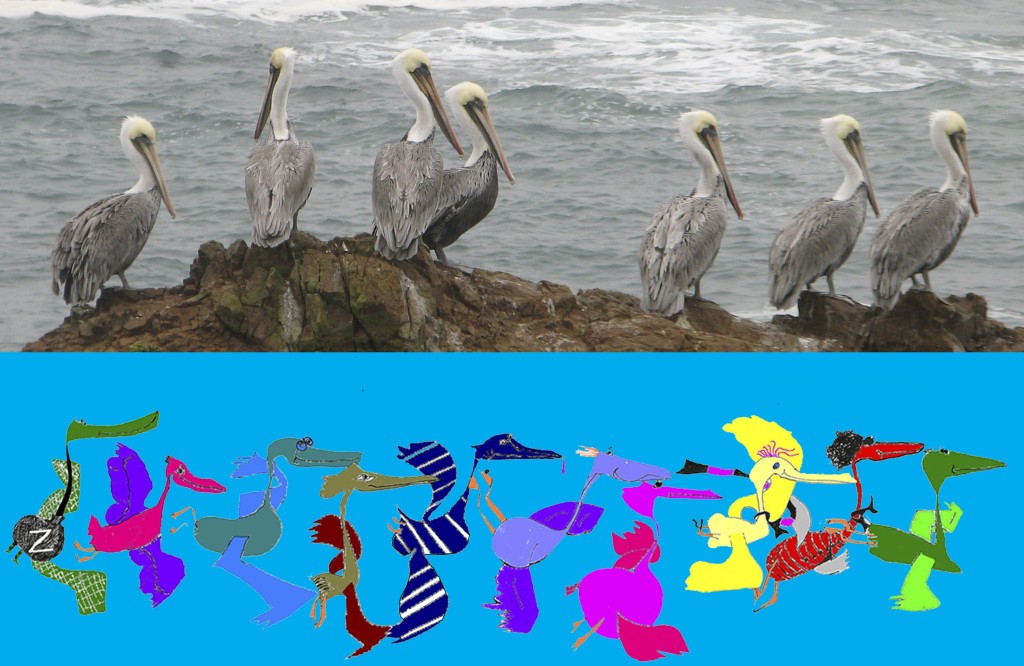 Why Write A Children's Book?
I get two questions quite a bit when I go out to share my books with people: How did you get started writing children's books? And, Why did you decide to write about pelicans? My answer to the first question most people seem to understand right away, "I was an elementary school teacher for over 30 years." I don't know if you know any elementary school teachers, but most of them, in my experience, love reading, love books, and love sharing books with children.  Watching children learn to read and begin to love reading and learning is exciting.   Many teachers harbor a desire to someday add to that excitement by writing their own children's book.  Well, I was one of those, and as I got close to retirement age, I decided to actually do it; leading to the publishing of The Pelican Family Counting Book.
That last question always makes me smile, "Why Pelicans?" It is almost asked with an incredulous air, as if they can't believe someone would write about pelicans. Now, I admit, maybe I'm hearing that tone as I live in Bakersfield, which is not actually known for its seacoasts.  But we are only 2-3 hours drive away, and lots of us who live here have spent many a hot summer day enjoying the lovely coasts near L.A. or Santa Barbara, or the central coast towns of Pismo, Morro Bay, and Avila. And I always like to do a bit of bird-watching everywhere I go.  And why are pelicans so unusual for characters?  I have seen books about owls and moose, llamas and emus, pigeons, fish and gorillas.  Why not pelicans?  Anyone who has spent any time along the California coastline is sure to have seen these fascinating birds.  In fact, it was standing on the Manhattan Beach pier one day, counting each one in a long line of beautiful birds, when I got the inspiration for the first book in our series– The Pelican Family Counting Book.
Shortly after, when visiting our son, Christopher, a licensed Marriage and Family Therapist, I noticed some cartoon drawings he had made taped to the front of his refrigerator. I decided to ask him to give form to my envisioned characters. One by one, ten unique pelican drawings were sent my way.  As I worked with these now embodied characters, and later, after the publishing of the first book, talked about them to people, I found more and more that they took on, in my imagination, almost real personalities.  And, I discovered, each one had his or her own unique story to tell, giving me the responsibility to let them be heard.  Thus, the idea of writing a ten-book series came about.  (Later revised to an eleven-book series when Cat, introduced in the Counting Book and pushing his way into almost all of the other books, demanded, as cats often do, to be recognized with his own story.)
And so the plan proceeded…
The Children's Book Series
The Pelican Family Counting Book introduces all of the pelicans as they are added one-by-one to the line that is "flying over the ocean, flying over the sea."  Our cartoon pelicans are the characters in this book, but there are also photographs of real brown pelicans and coastal scenes.  This is a great book for very young children learning to count, and also a way to steer them to start noticing and observing the wonderful wildlife who share our world with us.
Telly's Story was the first story about an individual pelican from the Counting Book.  As I shared the Counting Book, many people asked me why Telly carried a cat on his back.  "Tell them how Cat and I met," said Telly.  And I did. And so it became a light-hearted story of the developing of an unlikely friendship between a pelican and a cat.  Themes of friendship, acceptance, and welcoming differences are presented so you can introduce them to your child's world.
Kelly and the Scarf tells how Kelly got the scarf that Christopher drew on that character.  This story focuses on empathy and a spirit of giving, and can lead to discussion of how similar animals (duck, pelican) are alike and different. Comparing and contrasting is very important in child development.
Stelly and the Sticky Gooey Taffy came about as Christopher
drew something dangling from Stelly's mouth.  In my imagination that something became salt-water taffy, a confection often found in coastal towns.  While the story itself is a whimsical tale about the trouble a pelican causes the citizens of Beach Town after picking up some very sticky taffy, it presents a chance for the readers to discuss healthy eating, the differences in what animals and humans eat, and the importance of protecting our environment and not endangering others around us.
Delly and the Beach Town Healthy Alphabet Challenge developed because Delly is always hungry in The Pelican Family Counting Book, so hungry, in fact, he thinks he could eat a whale!  The story centers around Delly and his friend, Chef Chauncy, who work together to
introduce healthy fruits and veggies to Beach Town's children.  A local school in Bakersfield invited me to come share this book with their students as they were focusing on healthy eating.  You can imagine how exciting and gratifying it was for me to go to the school on the presentation day and see that the school cafeteria menu for that week had been set up to serve the children fruits and veggies that were in OUR book, and that each child had a special alphabet sheet to check off what they had tried!
As an author, nothing can be more gratifying than seeing the reader use your book to further develop.  There are two
parts to really understanding and getting full benefit from a book.  One part is how well the author presents it, the other part has to do with the individual who receives the information and how they process it and take the information and incorporate it into their lives.  In the case of children's books, it has a lot to do with how the adult shares the book with the child and then how they talk about the story and help the children relate it to their own lives and incorporate parts that are useful to them.
If you know the Counting Book, you can see that the books published so far are not in the order that the pelicans appear in the Counting Book (Pelly, Melly, Kelly, Shelly, Delly, Stelly, Elly, Telly, Nelly, Zelly). There's a reason for this. Some of the characters were more insistent about getting their story told right away than others.  Pelly, the leader has not yet had his turn, but it's coming soon.  Here is the plan for the rest of the books–with their working titles, which could change later.
Pelly and Melly; A Conversation Between Friends, A story about
friendship.
Nelly's Quilt, about passing kindness forward.
Z, Zelly's story, as the pelican in the group who learns karate and uses it to teach the town children about interacting without bullying.
Shelly's Story, about overcoming fear and developing skills and confidence.
Elly, about empathy for others.
Cat's Tale; Cat finally getting a turn to tell about events from the series from his viewpoint.
Those of us involved with The Pelican Family Series hope you will enjoy listening to The Pelican Family Counting Book on the video, then perhaps choose to purchase it as either a printed copy (my favorite) or an E-book. I say printed copies are my favorite because I prefer the look and feel of a real, printed book. I have oh so many good memories of associations with printed books, carried with me everywhere, and shared with others easily.
Why write a children's book about pelicans? Because it embodies all the things I love; children, nature, helping children learn, the joy of creating and reading and learning, and helping children experience that joy.
#9 — Why Write A Children's Book?