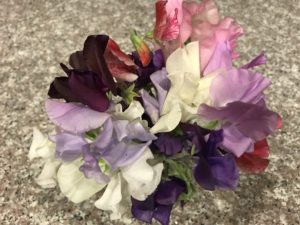 Happy Scents
It started last Fall.  I had memories of beautiful, delicate flowers –Sweet Peas — delicate both in looks and fragrance, climbing up a trellis in my yard.  I installed a trellis, bought some seed packets, and planted them.  Fall came and went, then Winter, and finally Spring arrived.  And then I received the reward — Happy Scents!  Just like I had remembered.
(I believe it is important to take the time and make the effort to help children learn to observe the world around them.  Skill in observing is a learning tool.  When we are accomplished observers, we expand our comprehension and appreciation of our world.   Post #11 — Tools For Learning — Observing suggests activities for children using all of our senses.  The sense of smell is an important one.)
Happy Scents of Flowers and Plants
Spring arrived.  There were Happy Scents in flowers and plants everywhere — Sweet Peas, Gardenias, Roses, Lavender, Rosemary, Wisteria.  I could go on and on.  These lovely fragrances not only expanded my appreciation of the world in which I lived, but also were strongly attached to memories of past good times — Happy Scents of happy times.  As I started to think about this, I realized that I had so many different Happy Scents in my memories.
There is the scent of Christmas Trees which brings back memories of family gatherings,  and also of a cabin in the forest which had Douglas Firs growing in the front. When the rain was followed by sunshine, I would stand among those beautiful trees and breathe in happily.  The smell of wild grasses often makes me think of walking through undeveloped fields as a child.  But there were even other scents, besides plants that connect to happy times.
Pleasant Aromas of Food
Consider the countless number of pleasant food fragrances–  tortillas cooking on a hot grill, pot roast, fresh bread, cinnamon rolls, Thanksgiving turkey roasting, enchiladas in the oven, vegetable soup, spaghetti sauce, Chinese food, barbeques.  I'm getting hungry as I write this.
See's Candy
Coffee.
(Those two deserve a place by themselves.)
Rich Environmental Scents
I have always loved the smell of the ocean.  Opening the windows when I'm traveling on forest roads, lets me enjoy the scented forest air.   I smile at the scents of freshly cut grass, turned over soil, new lumber in a house being built, the air just before rain.
What are Happy Scents For You?
I decided to do a quick survey of my kids and asked them to send me some of their Happy Scents. (It had to be quick, they were on their way to work.  They are so nice to accommodate their mother at 7:15 a.m. They were used to such questions, they have been helping me with my many projects all their lives!)  Here's what I got:  Christmas trees, ground coffee before it's brewed, brandy in a snifter, tomato plants, Rosemary, fresh baked cookies, cinnamon rolls, brownies. leather, laundry in the dryer, pipe tobacco ( Their grandfather smoked a pipe.)  That one made me think of cigar smoke.  My grandfather smoked cigars.
Observing scents around us enhances the enjoyment and understanding of our world.  When we talk to our children about what we are observing, they learn to connect what they are noticing, too. Aromas are connected to memories of our past.  What are some of your Happy Scents?