Why I am Writing Posts About Ancestry Research
My posts in the past have been all about the fictional Pelican Family and their interactions with the population of Beach Town, and about Early Learning , Child Development, and information about me.   At the same time that I have been working on those, I have been researching my own and my husband's ancestry.  This set of posts will be about that ancestry research that made me think of the stories of those who came before me.
Our Ancestors Are Part Of Us
"If we stand tall, it's because we stand on the shoulders of our ancestors," says a West African proverb quoted by Mariahadessa  Ekere Tallie in her article in the book A Velocity of Being,  Letters  To A Young Reader, edited by Maria Papova and Claudia Bedrick.  I love that quote and the picture by Esme Shapiro that illustrates it in that article.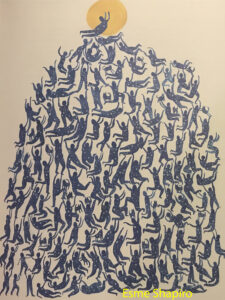 The second quote I found on Facebook is one that made me stop and think, even more, of how many have come before me.  I thought about how each person had his or her own story which was important to that person and to others in their family.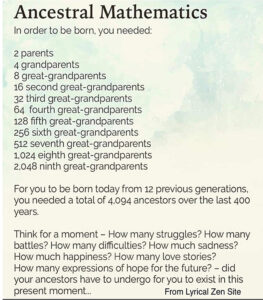 Contemplating the quote of standing on our ancestors' shoulders:
Even if we feel that we don't "stand tall," we are still the result of all who have come before us.  Some of us are more fortunate in that than others. 

What if those people before me hadn't met and had children!  I wouldn't be me!  I still might BE, but I would be someone else.

I believe that we have an obligation to "stand tall," or be good examples, for our own children and others.  This belief certainly relates to teaching, my books,  and past blog posts.

The educator in me thought that students' study of their own ancestry would be a great way for them to have more understanding of history and its impact on peoples' lives.
   Oh! The Stories!  Inspired By Ancestry Research
 I have been working on Ancestry.com for research.  I have nearly 500 people on the tree so far.  This tree identifies ancestors who lived in the United States (even before it was the United States) of my father and mother and of my husband's father and mother.  Just think of the stories of all these people!  My life is enriched with knowledge of them.  That sentence isn't strong enough to express what I feel.  Learning about the people who came before me is powerful!  
In this set of posts, I will only talk about 25 people.  Thank you for joining me in this adventure.  I hope you will comment on my posts as I move forward. 
      My posts will have three parts:
Information about people I have seen in my research.

A little history about the time.  (History people, feel free to comment more on this.)

What I imagined about that person living in that time and place. 
My first person is Johan Michael Pace, my fifth great-grandfather.  He was born in 1728 in Baumholder, Birkenfeld, Rheinland-Pfalz, Germany and died in Luzerne, Pennsylvania, United States in 1830.  An obituary published in the Daily National Intelligencer on June 12,1830 made me decide to write about him.  Blog post #58 will tell some of what I have learned about his story.  
#57 – Ancestry Research Inspired Me To Write