Independent Stores Have Helped Me With Self-Published Books.
I was at Russo's Books the other day, to pick up some books.  Tony Russo asked me if I had one of their new cups.  I didn't, so he gave me one.  As I was drinking hot chocolate out of it last night, I thought about how so many small, independent stores, and Russo's particularly, had helped me on this 12 year-project to be a self-published author.
I Had A Dream Of Self-Publishing A Children's Book.
Since I first began writing children's books in the early 2000s, I have been helped tremendously by independent stores.  I had been wanting to write children's books for a long time. In the 80's and 90's I sent off books to publishers with the hope of being published.  By the late 90's, I made a decision to self-publish a counting book, called The Pelican Family Counting Book.  Why?  I loved to watch birds and I loved the ocean.  I was a teacher whose background was in Early Childhood Education.  Once, when I was standing on the pier in Manhattan Beach, I saw a long line of pelicans fly over.  I found myself counting them, and I thought, "That would make a fun counting book."
I could write the story, but I knew nothing about how to go about turning that idea into an actual book.   My available tools for publishing this first book were limited.  I didn't even know anything about Photoshop Elements then.  The first book was published using the word processor that came with the computer, probably Works.  That's why all the pelicans in the original Counting Book are in a perfectly straight line.  I didn't know how to do anything else with them!  My son, who is now a Marriage and Family Therapist,  did the cartoon drawings. He was happy to help out his mother. (Poor guy didn't know I would later have plans to make this an eleven-book series!)
Russo's Books and Josten's Printing and Publishing Helped Me Reach My Dream
We got the book together, then we didn't know how to get it printed.  We looked for someone to help.  My son called Russo's and talked to Mike Russo.  Mike suggested I check out Josten's Printing and Publishing in Visalia.  He also said something that really lifted my spirits and made me forever grateful, "You get it printed, and we'll put it on our shelves."
Josten's turned out to be a great suggestion.  Talk about kind, patient people!  I remember talking to them, in later years,  about how much I appreciated their patience and support.  "You did great." I was told, as one person had brought in a shoebox of random pages and wanted them to turn it into a book.  At least I was a bit more organized.
Small, Independent Businesses Are My Friends.
Some stores have taught me things I needed to know, put my books on their shelves, and allowed me to come do book signings.  Josten's printed the book, and we didn't know how much to charge for it.  I took it into Russo's, and Tony Russo took the time to talk to me about pricing.  He also made me face a bit of reality by saying this, "You have done the easy part." (It hadn't felt so easy.) "Now comes the hard part –marketing." (Was that ever a true statement!)
The owner of a little book store in Fort Bragg helped me compare my very first book with other books she was selling.  She pointed out that my pictures needed to be larger.
Another book store in Willits, where we lived for a while, was always so encouraging.  In fact, even though the store has now closed, the owner wrote me a nice note when I went up there to do a library presentation not too long ago.
Sometimes the stores weren't bookstores, like Lassen's here in town who let me come do book signings because of Delly and the Beach Town Healthy Alphabet Challenge. There was Silver Seahorse, a young children's clothing store, in Morro Bay that welcomed me over several years and was a good seller of The Counting Book.  And Good's Shop in Willits, a toy and stamp shop sold a number of my books.
These Independent Businesses Gave Me A Chance.
All of these, and more I haven't mentioned,  did one important thing.  They said they would give me a try.   They sometimes made accommodations in their stores and in their routines to let me set up and stay for a few hours, and bring a 4 ft. pelican puppet with me,  and they put my books on their shelves.  They were welcoming and friendly and oh, so encouraging.  A few stores stand out as stars for me, as I have had multiple contacts and sales with them.  Two in particular are Russo's here in Bakersfield, and Depot Books in Mill Valley.  I remember once telling the first manager that I started working with at Depot Books how much I appreciated them keeping my books there.  After all, coming from Bakersfield, I wasn't exactly local.  He said, "Hey, Mill Valley loves pelicans!"  That store is still one of my favorites to go to for signings.
Oh, The Lovely Experiences At Independent Stores!
I've learned a tiny bit about writing, publishing, and marketing books over the last 12+ years. And I moved to the realization that selling books isn't a business for me.  It is a hobby, but a wonderful hobby at that.  I've been to great places, and worked with so many lovely people in these stores.  And, I have had the chance to interact with families and children about my books. I have so many great memories.  And I'm planning on making more good memories before I'm done.  After all, The Pelican Family Series is an 11-book series, and I've only published six!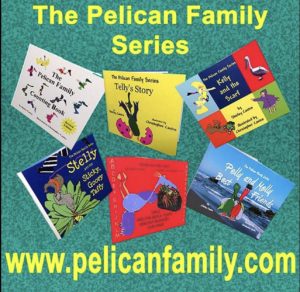 #36 –Independent Stores Have Helped Me With Self-Published Books