When Should Kids Learn To Read?
Before I respond to the statement above, let me put out a bit of a disclaimer so that you know where I'm coming from. I have been sharing books with children and with parents (so they can share them with children), for over 40 years. My life's work after that of wife, mother, and grandmother, has been as an educator. I LOVE helping children learn, and encouraging adults to be active administrators of their children's learning.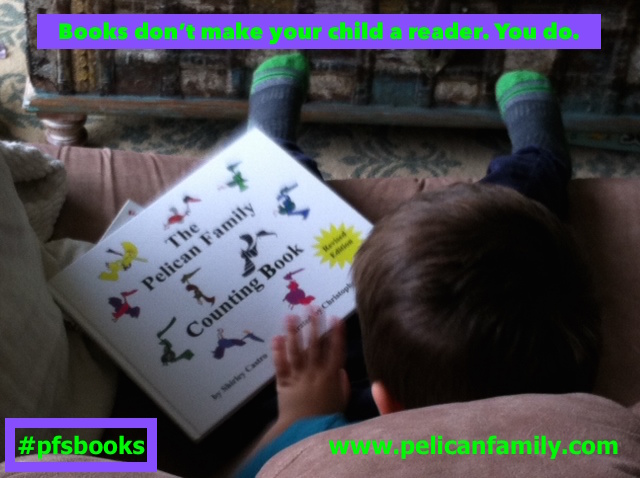 So, let's get back to a response to the question at hand, when should kids learn to read? 
Your child is never too young for a book!
Just born? Just the right age!
                       Terrible twos? Perfect!
                                Busy toddler? Couldn't be better!
                                        Involved Elementary student? Oh, what great books there are
                                                    for you!
                                                              And on and on.
That "too young" statement, along with the three others listed below were actual statements that I've heard as I've done book signings and booths in diffe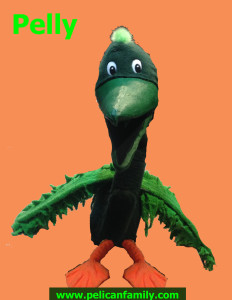 rent areas. It's because I have heard these statements, that I wanted to write this post. After you have read this, I hope you will agree with me.  Books are for all ages, from birth to seniors!  And, we who are involved with young children, can and must find ways to make sure that our children hear books read to them regularly from birth!
When I go out with a couple of boxes of books, and my friend, Pelly, I love to talk to people about my books, of course. But I also enjoy talking about books and kids in general. I work at trying to engage everyone as they amble by, and Pelly is a big help. It's pretty hard NOT to look at a three-foot-tall green pelican who TALKS to you. And it is in interacting with people, that I have heard these problem statements.
4 Reasons Why Parents Don't Read To Their Children
My child is too young for books.

My child only responds to games and videos with action, not books.

My child won't sit down/sit still while I read.


My child will mess up the book.
The first is usually from a parent with a mini-sized person in a stroller, or a baby carrier, or simply being held. Almost smugly, these parents will say, "Well, (obviously, you silly older person with a huge green puppet), my child is too young for books." They may not know that much research has been done and shows that children who are read to FROM BIRTH are much more likely to do well in school, AND IN LIFE! While you are reading to that dear, time-intensive mini one, he or she is developing an understanding of sounds, language and communication, learning to love books, and growing a strong bond with you, as you engage him or her with your fun voices, laughter, smiles and the warmth and closeness of your body.
"If you wait, it's too late!" says ReadAloud.org, which advocates reading to children for 15 minutes EVERY DAY from birth. And I agree. Starting young is VERY IMPORTANT! Start reading yesterday, but if you haven't, start now! Because even though the best time to start reading to your child is from birth, if you haven't done it yet, you need to start NOW!
"He won't pay attention to books, he only likes games and videos with lots of action."
Oh, My! I hardly know where to start on that one. First, you are handicapping your child if you are not reading to him or her regularly! Children who are read to regularly, from a very early age, come into school with a much more advanced vocabulary. But it isn't just words, they also have advanced understanding of concepts when compared to children who have not had books and ideas shared with them. Here's why — as you read, in a warm, caring atmosphere with your child, you also talk about what's in the books — the pictures, characters, topics, themes, and words and what these mean. While children are attracted to all the fancy techniques that videos and games use, this is where you come in as the adult. It's your job to guide your child.  It's your job to set an example and be a role model for them to follow.  Children aren't born knowing what's best, they depend on you to help them learn that.
    You limit the videos and games. Don't let your child get sucked in by electronics. Yes, there is good technology out there for little ones. But you choose. You be responsible for the content. You set the limits. You might be interested in reading this article about how Steve Jobs, and other tech executives limited the use of screen time for their own children.
    You pick your books. When children are very young, you pick the books. There are so many wonderful ones out there. You may have your own favorites that you want to share with your child. Your local librarian is a great resource to show you some. And there are book lists online that will help you out. I decided to take my own advice and went to my local library and talked to the librarian, Andrea Hayden, who does Toddler Story Time at the Beale Branch of the Kern County Library. She gave me a list of 10 books that she likes to use.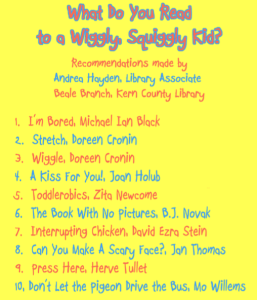 (It would be really fun if you would talk to your local librarian and add other suggested book titles in the comment section of this post.)
    You become the ACTOR. When reading to your child, YOU PROVIDE THE ACTION; with your silly voices, with your over the top expressions, with your ability to have a fun time with each book. You get your child involved. She makes the sound of the cow, "MOO!" She roars like the lion, "ROAR!" She runs away fast like the mouse. You start out with just short times with books and all that hoopla you provide, maybe do it twice a day. Then, as your child starts to learn that this is a fun time with mom or dad, a time for just child and parent, a special time, which is what he/she wants more than anything, you expand to longer books, and longer times. By the way, I'm not ignoring the energy it takes to do this as a parent. Raising young children is often exhausting! All right, raising young children is MOSTLY exhausting! But the exhaustion is worth it. This is your child. If you don't expend the energy, who will?
A very closely related statement to the previous one that I hear from parents is "He won't sit down and listen to me read." This statement makes me chuckle a bit, as I have fond memories of going to my son's house and reading to my grandson when he was very young. My son had to point out to me that my grandson didn't like to sit while he listened to books. They would limit him to staying in his room, but he would wander and run around and they would keep reading. He'd come over, take a look, then go do something else. But they never gave up. They did it nightly. They may not have read the whole story, or they may have picked very short books, but they kept doing it. Now at 4 ½ he sits and listens and talks with them about chapter books. Does it work that perfectly every night, of course not. Things with children are never picture perfect. But, the point is, you have to put the work into it. You have to ham it up. And, you have to be persevering!  It's too important to give up. Your child is too important to give up on.
The last statement that I often hear is, "She might mess up the book." That's true, it is possible. But again, the ball is in your court. When your babies are brand new, you start with board books and cloth books that the child can hold and not destroy. The importance of reading to children and getting them involved in reading is so critical that you need to figure out ways to make it happen for your child. Here are the titles of some very young baby board books that you might like: Head, Shoulders, Knees and Toes by Annie Kubler; Brown Bear, Brown Bear What do you See? by Bill Martin, Jr. and Eric Carle; Baby Touch and Feel books by DK Publishing.  As they grow, it is your responsibility to teach your child about handling books properly. If you have books for your child that are not chewable, you protect the books from the child. You hold the book, and read it. You hand them something else to chew on.
Maybe you've picked up the overall key point here, the book isn't the important part. And just buying a book and sitting it on a shelf isn't going to do a thing. What's important is the interaction between you and your child as you read to him/her every day. Your children learn that reading and discussion are so important that the most essential and significant person in their lives takes time to sit down and do it with them. Wow! It must be powerful!
There! Have I won you over? If you didn't know before, do you realize now that reading to children daily FROM BIRTH is important?
You are helping their language abilities develop as they listen to the sounds and the rhythm of your reading.
You are introducing them to new objects and words, concepts and ideas.
You are building a strong bond with them as you take this time to provide a warm, close, fun experience.
You are helping them prepare to be lifelong learners and thinkers.
Your child is never too young for a book!
Start reading yesterday! But if you haven't,
or if you started and then stopped,
start today!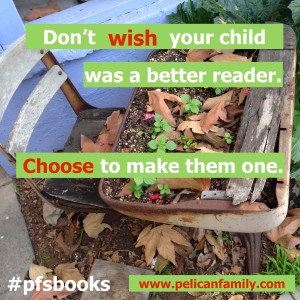 #26 — My child is too young for a book!