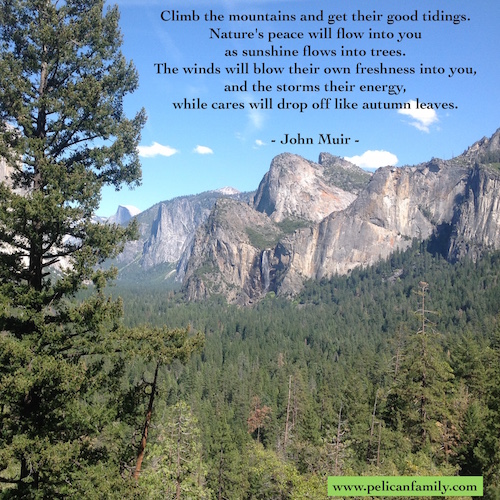 Preserve Our National Parks
Happy Belated Birthday John Muir (born April 21, 1838). Thank you for working so hard to preserve the natural places in our country, and for inspiring so many with your writings.  And, thanks to all who have made sure that everyone can enjoy these places — everyone — including me, and you, and our children and grandchildren. Imagine what would have happened if these people had not put in all this work, and if people didn't CONTINUE to work to keep them available for all. High fences would stop us from entering. "DO NOT TRESPASS," signs would keep us from their magic…or they would be cleared for resources and real estate. The National Park System has been called America's "Best Idea",  and every time I visit one of the parks, I know why!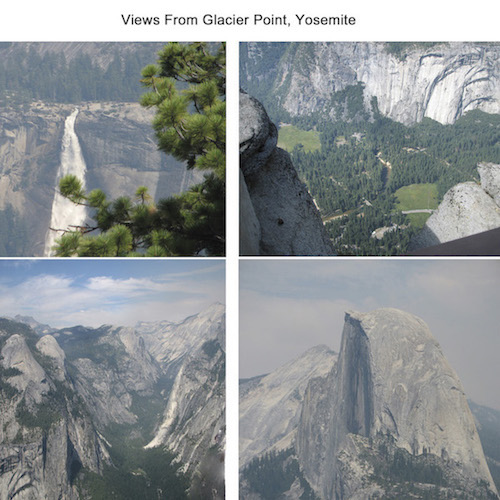 My favorite is Yosemite. There are several different ways to travel to Yosemite Valley, but the road from Fresno is the one I've traveled the most. Up from the flatland, with its busy freeways and polluted air. Up through the hills with rocks and oaks, and the little towns. Onto the winding mountain roads, and finally the mountain air, the smell of pine and fir. On through the Park gate, past the historic Wawona Hotel and then, through the tunnel and TUNNEL VIEW!  Thousands of pictures have been taken at that spot by people from all over the world. I've taken a few dozen myself, like the one at the top of this page. I never tire of standing there and looking out at Bridalveil Falls, Half Dome, El Capitan and the beautiful valley below. As John Muir said, when I see that view, "nature's peace" flows into me, and I feel uplifted and connected.   This is the reason we have taken our children to this and other such places — to let them breathe in the air, to take in the scene and to place it in their memory bank. Oh, that all children might have that experience.
A Day In Yosemite
I was lucky to go to the barbecue on the lawn of the Wawona Hotel a couple of times. But there are a million different picnic spots with world class views that families can choose throughout Yosemite and other National and State Parks. On our last visit to Yosemite, we ate our homemade sandwiches from the cold box, while sitting in our lawn chairs and watching the progress of two mountain climbers on El Capitan. And we got to share this experience with visitors from Japan and Belgium and Seattle as they came up and asked what we were seeing through our binoculars.  One of the Japanese visitors almost missed the tour bus departure, he was so interested in trying to spot the climbers with our binoculars.  I always enjoy connecting with people from other parts of the world when we visit Yosemite.  The love of natural beauty is universal.
What do children get from these visits? They get to internalize these scenes and hold them in their minds forever. They get to hike and run and laugh and play in these wondrous places. They learn new vocabulary and interesting facts — about plants and animals, about geography and geology and astronomy (the objects of the night skies are so much more visible in areas of low, man-made light). State and National parks make it easy to help us all learn, with signs and visitor centers and people to tell us about these wonders. "Oh, not another visitor center," my patient husband probably thinks, but the learner inside me loves these places and we visit them again and again.  Children may not be able to list all the things they have learned after such a trip, but these hands-on, immersion experiences become part of their knowledge base and the words they've heard and seen about these parks become part of their vocabulary.
There are 58 National Parks in the U.S.A and most of them have activities for kids.  
Activities for Kids
The Junior Ranger Program is designed just for kids. On the website it says, "The NPS Junior Ranger program is an activity based program conducted in almost all parks, and some Junior Ranger programs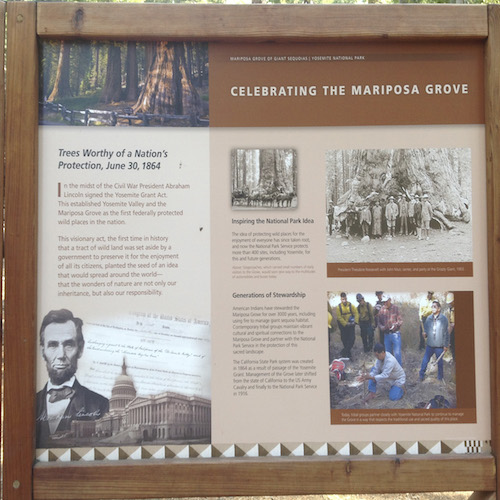 are national. Many national parks offer young visitors the opportunity to join the National Park Service 'family' as Junior Rangers. Interested youth complete a series of activities during a park visit, share their answers with a park ranger, and receive an official Junior Ranger patch and Junior Ranger certificate. Junior Rangers are typically between the ages of 5 to 13, although people of all ages can participate."
This post focuses on Yosemite. It's close to me, and I love it!  But there are such places all over our country. Click here to find a list of National Parks in the U.S. I hope you and your children are lucky enough to get to go visit. And don't forget Channel Islands National Park — that's where Brown Pelicans nest on the West coast of the U.S. We Pelican Family Series Children's Picture Books people LOVE pelicans.  (Although I have to admit I've only visited the Visitor Center in Ventura so far.  I haven't got the determination yet to make the boat trip across to the islands — a bit worried about seasickness.)  Have any of you visited these islands yet?

 Find out more about The Sierra Club and John Muir here.
Which National Parks have you and your children visited?
Leave a comment and tell us your favorites.
#22 — Experience Nature's Peace — The National Parks