My Fifth Great Grandfather Was An Immigrant.
People Coming to America in the 1700s Faced Life-Threatening Hardships
Johan Michael Pace came from Baumholder, Birkenfeld, Rheinland-Pfalz, Germany  to Philadelphia, Pennsylvania in 1749.   He came with his parents and siblings.  They traveled down the Rhine River and boarded the ocean sailing ship, Edinburgh, in Rotterdam, Netherlands.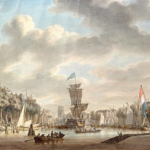 Their next stop was Plymouth, England, then Philadelphia.   It was a long, dangerous trip.  Just coming down the Rhine could take weeks, due to the need to stop at custom points along the way.  This  picture is one I found in The Rhine River:  Raging with History by Rick Steves.  The photo was by Cameron Hewitt.   It shows one of many castles where boats would be stopped to pay a fine, before they could pass.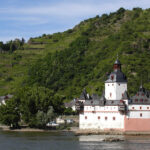 The crossing from England to Philadelphia could take months, in terrible conditions, depending on the winds and weather.   When asked why they would go through so much hardship to come to America, the answers were familiar to what we hear today:  
To gain freedom from religious and ethnic persecution

To have a more abundant life for themselves and their families.
Johan Michael Pace Had A long Life
Johan Michael Pace married Howell Anna Welsh.  They had two children, Margaret Peggy Pace and Michael Pace, Jr.  Michael Pace Jr. was my ancestor.     
I learned more about John Michael Pace from  a June 12, 1830 obituary in the National Intelligencer. 
He died at the age of 101 years, 9 months, and 3 days. 

He had very good health.  "Scarcely, in the hundred years of his life, ever having lost his appetite for a single meal. "

He was short, "scarcely 5 feet tall, but thick set, of a mild and cheerful temper, and loved a social, and, at times, a merry glass of rye".  "To keep off dyspepsia, he always carried bread in his pocket and ate of that constantly as he drank."

In the Revolutionary War, "he was out as a militia man several times, and used to speak of his having marched under General Washington. "

The last 44 years of his life he lived in Luzerne County, Pennsylvania, and died at the home of his son, Michael. 
Linking Names To My Family Tree
While researching my father's family I kept running into Johan Michael Pace's name, and the name of his father. His father's name was usually printed as Johan Michael Pees.  I wondered why the difference in spelling, then considered it could be due to someone who was recording names and not hearing it correctly.   It also could be due to the handwriting of the person who recorded the names.  I have found that it can be difficult to read the handwriting on census lists, wills, and letters from that time.  Perhaps when these handwritten materials were printed, the names were not recorded properly.  Or, perhaps people changed their names when they arrived in America. 
It took me a long time to find the link that made me feel secure that he was in my family's line.  It came in the form of property handed down to my third great grandfather by  Margaret Peggy Pace, Johan Michael's daughter.  She even had a town named after her.  She is the second ancestor that I would like to introduce to you in Blog Post # 59. 
#58 – Johan Michael Pace — Five Feet Tall, Lived To 101, Rode With General Washington, Liked "A Merry Glass of Rye."